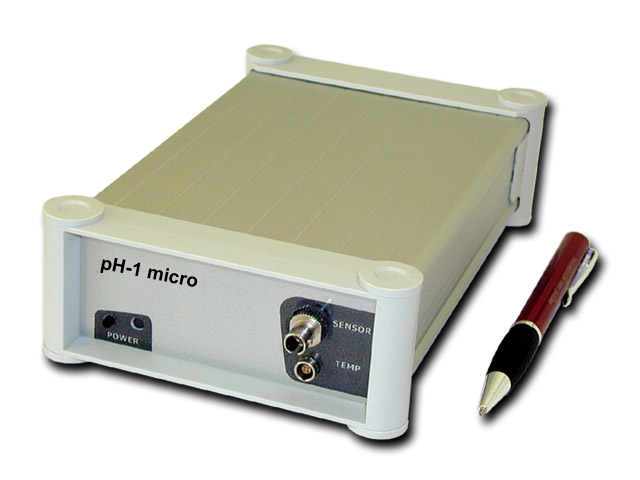 pH-1 Micro meter for pH micro sensors
Features
Optical micro sensor pH meter
Measurement range: 5.5 - 9 pH
No reference electrode needed
Immune to electrical and magnetic interference
pH sensing based on average luminescence lifetime detection (patented DLR technology)
Two 0-5VDC analog outputs with BNC connector for external logger or A/D device
One external trigger input (TTL)
Small footprint
The pH-1 Micro instrument is a precise single channel, temperature compensated pH meter, for use with fiber optic pH micro sensors. It requires a PC for operation and is controlled via included software for Windows, which also saves and visualizes the measured values.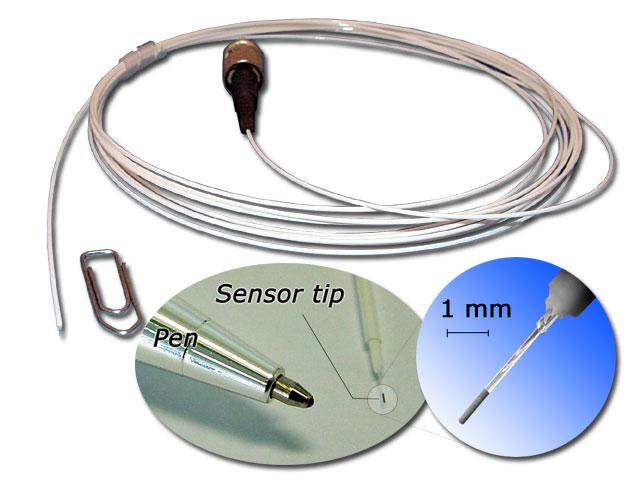 Customized needle pH micro sensor, min 3 pcs
Features
BOBS™ compatible
High spatial resolution (<140 µm)
No reference electrode needed
High temporal resolution (1-2 sec)
Measurement range: 5.5 - 9 pH
No reference electrode needed
Immune to electrical and magnetic interference
pH sensing based on average luminescence lifetime detection (patented DLR technology)
This fiber optic micro pH sensor is housed inside a 70 mm long syringe needle compatible with the sample holder for our BOBS™ instrument to allow real-time measurements of pH in micro liter samples.
The pH sensitive tip of the optical fiber is protected inside a stainless steel needle, but for measurement purposes the tip can be exposed by pressing a plunger. This design allows for easy penetration through skin, a rubber septum or any other harsh material as well as for secure transportation and insertion.