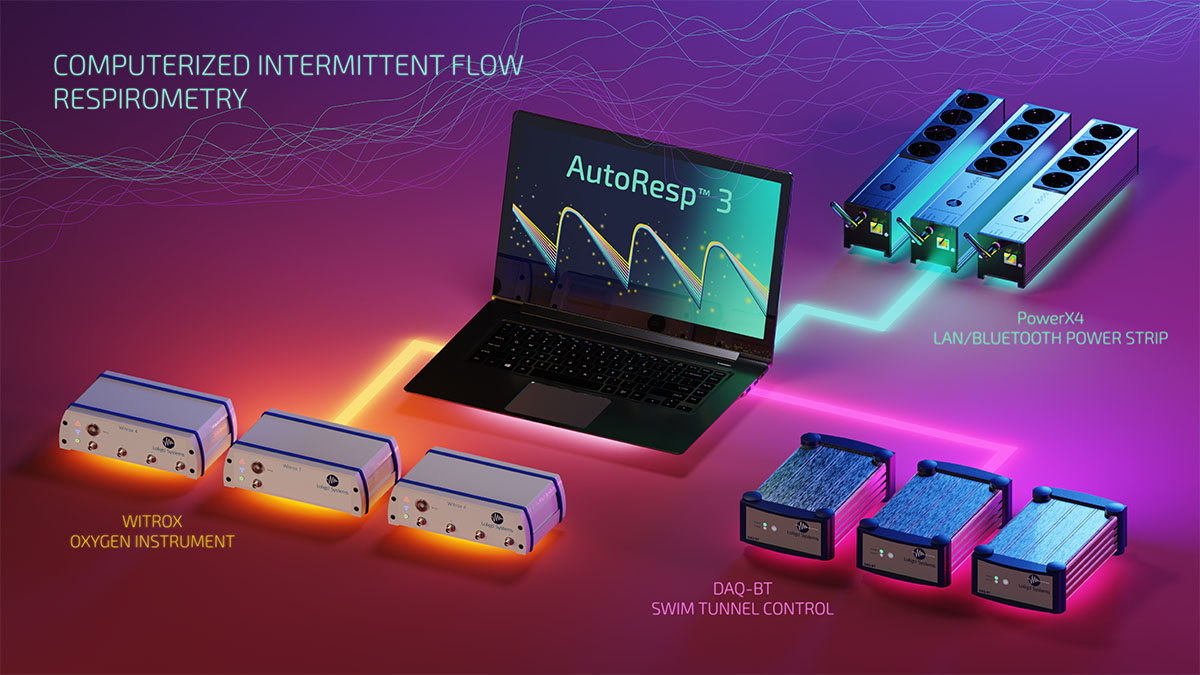 Jump-start aquatic respirometry with AutoResp™ v3; the cutting-edge software control center for our intermittent flow respirometry systems. This user-friendly program automates your swim tunnel and resting chamber experiments including real-time data acquisition, sensor calibration, hardware control, water quality regulation as well as data post-analysis and export.
Features
Automated oxygen consumption rate measurements
Resting chamber experiments for Standard, Resting, Minimum, or Routine Metabolic Rate
Swim tunnel experiments for Ucrit, Aerobic Scope, Cost of Transport, EPOC, or Maximum Metabolic Rate
High throughput – up to 20 resting chambers or 10 swim tunnels
Independent chambers for increased throughput
Multiple respirometry modes, e.g., time, oxygen levels, regression statistics (R2)
Redesigned intuitive user interface
Complete analysis dashboard with across experiments, treatments, and blanks statistics
Windows 11 compatible
New Look, Higher Throughput
Users of earlier AutoResp™ versions will discover a thoroughly modernized user interface. This sleek, new interface provides a convenient overview of your experiments while granting quick, practical access to essential hardware controls. Effortlessly monitor, control, and manage up to 20 resting chambers or 10 swim tunnels, synchronously or asynchronously, through a powerful yet user-friendly experimental dashboard. AutoResp™ v3 is designed for high-throughput setups, maximizing efficiency, and reducing time and effort.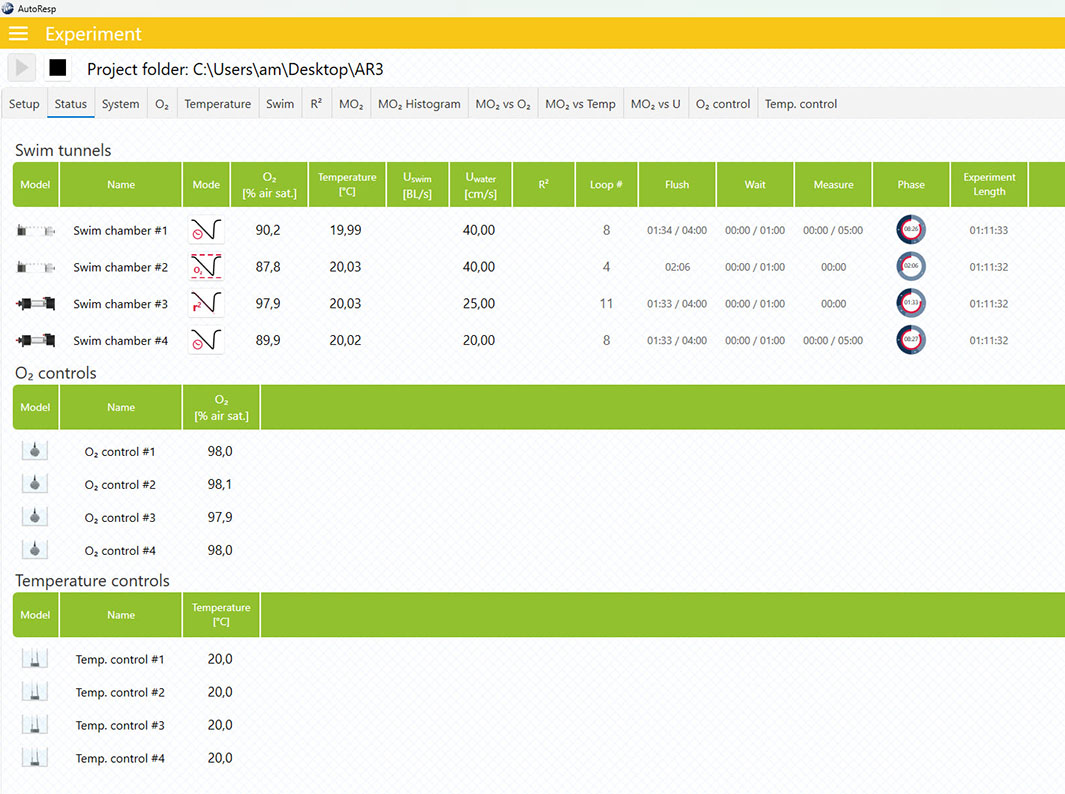 Simple System Setup
The new system designer swiftly guides you through the process of setting up resting chamber or swim tunnel systems. AutoResp™ v3 displays the available number of chambers based on the connected hardware via the intuitive Devices menu. The system designer allocates the appropriate hardware to each chamber, offering you a convenient overview of each setup. And with access to explanatory graphical illustrations of each system, you will have your system up and running in no time.
The swim tunnel motor controller (DAQ-BT) can now be powered and controlled directly via USB as an alternative to wireless Bluetooth. And the PowerX4 power strip can be controlled via wired ethernet/LAN cables as well as via Bluetooth.
Save Time on Experiments
AutoResp™ v3 is centered around high throughput data collection. As respirometry and swim performance trials can be time-consuming methods, AutoResp™ v3 is packed with time-saving features and user interface functionalities that makes monitoring, controlling, and managing multiple setups a breeze.
Monitor data like oxygen levels, temperature, swim speed, MO2 values, and many more in real-time for each chamber in customizable graphs.
New respirometry modes allow you to run intermittent flow respirometry trials based on time, min/max oxygen levels, or minimum R2 values.
A nifty "phase-meter" helps you to keep track of multi-channel respirometry experiments.
You now have dedicated tabs to show you the status of each setup in real-time.
Regulating ambient water temperature or oxygen saturation is easily managed and monitored via dedicated control tabs.
Export individual graphs to Excel or as images, while the experiment is running, via a new quick-export function. The entire dataset can be exported to the Excel or the AutoResp™ v3 Analysis menu as well.
In-Depth Analysis, Even Across Experiments
The analysis dashboard of AutoResp™ v3 incorporates the latest published methods on respirometry data analysis. Each data parameter can be adjusted manually to your specific needs and is visually represented in customizable graphs that are easily exported. And with high throughput in mind, you can now analyze data and statistics across multiple experiments.
Data parameters:
Automatic MO2-estimation
SMR Standard metabolic rate
MMR Maximum metabolic rate
AS Aerobic scope (factorial or absolute)
Q10 Normalize metabolic rate with temperature
c Allometric scaling of metabolic rate data
EPOC Excessive post-exercise oxygen consumption
COT Cost of transport
Ucrit Critical swim speed
Uopt Optimal swimming speed for lowest COT
Pcrit Critical lower level of oxygen
PAAS-50 Lowest O2 level where MO2 > (RMR/SMR + MMR) / 2
You can change settings and calculation methods for each data parameter.
Data analysis examples
O2 vs time across multiple swim tunnel treatments and trials
O2 vs time across multiple resting chamber treatments and trials
Visualization of phases in three resting chambers with different treatments
R2 vs time across multiple swim tunnel treatments and trials
MO2 histogram separated into three treatments with multiple trials
A new treatment functionality allows you to set up and manage treatments, and to compare data and statistics across treatments and across experiments.
Each data parameter graph is highly interactive and customizable allowing you to show the data you want to see.
Calibrate Every Instrument in One Place
Each data instrument used in AutoResp™ v3 is easily calibrated from within the Calibration menu. Calibration data can be compared across instruments with an intuitive visual representation. Swim tunnel users will appreciate the seamless integration of water velocity calibration settings obtained in our digital particle tracking velocimetry software (DPTV 2), which can be imported directly into AutoResp™ v3.
NEED HELP?
If you need help to get started with the software, have a look in our AutoResp™ v3 quick guide or visit our YouTube channel for useful video tutorials.