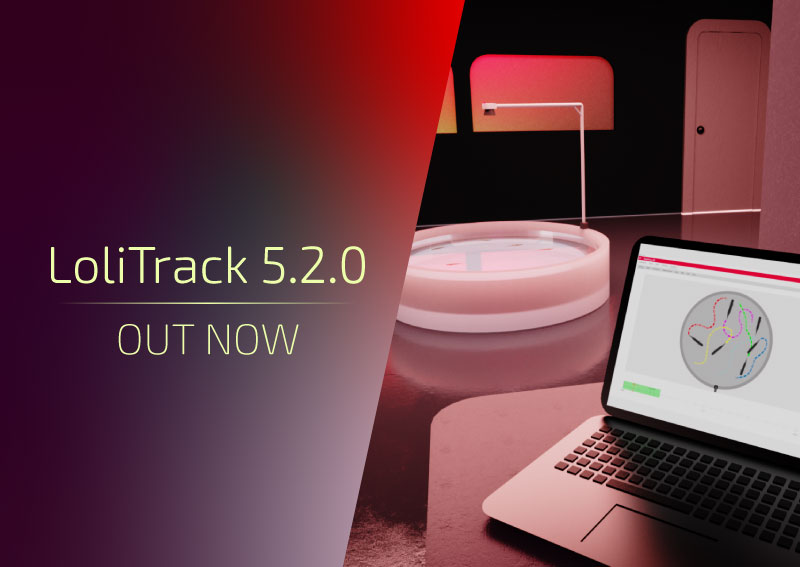 LoliTrack 5.2.0 is out!
The latest version of LoliTrack 5 has been released. Version 5.2.0 contains several new features, improvements, and some bug fixes.
IMPORTANT - Keylok license dongle. LoliTrack 5.2.0 requires a Keylok USB license dongle. Without the dongle, LoliTrack 5.2.0 will only run in demo mode (i.e., no data export). Previous turquoise Wibu dongles will not unlock LoliTrack 5.2.0. Contact us if you need a Keylok dongle.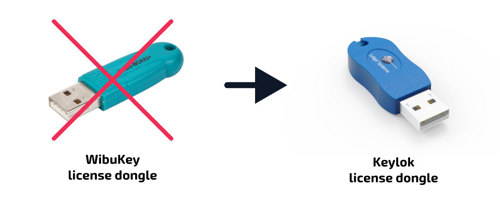 The frequency analyzer. A frequency analyzer allows you to calculate frequencies from video recordings. This is a helpful tool for automated measurements of heart rate, tail beat, ventilation, and other types of frequencies. The Frequency analyzer also allows for volume calculations, which enables you to estimate stroke volume, pumping volume, etc.:
You will find the Frequency analyzer in the main menu.

Another way to utilize the frequency analyzer is in the Analysis tab in Tracking 2D. This tool is especially useful for tail beat frequency analysis. Under the Bend graph, you will find the analyzer in the lower right corner:
Batch processing. You now have the option of batch tracking multiple videos in 2D. This is especially useful if you have multiple videos recorded in the same setup. Simply, track your first video like you normally would, and then apply the same settings to multiple videos. The batch processing window will tell you how much time is left: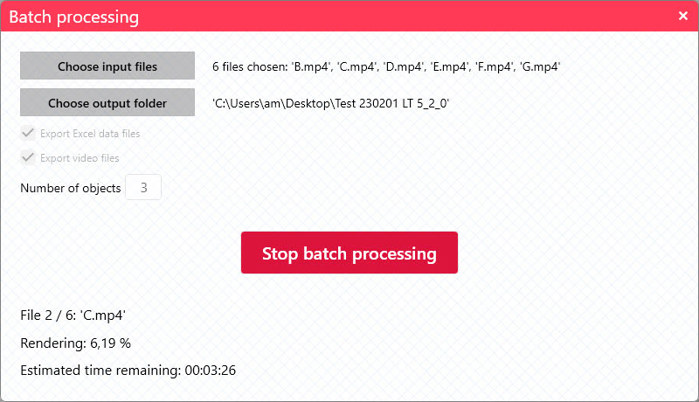 Custom object color. To help discriminate between similar looking organisms (e.g., zebrafish) you can now specify the exact color of each tracked object and label it. Click the color box to customize the color according to your liking. The selected color will be reflected on the video preview: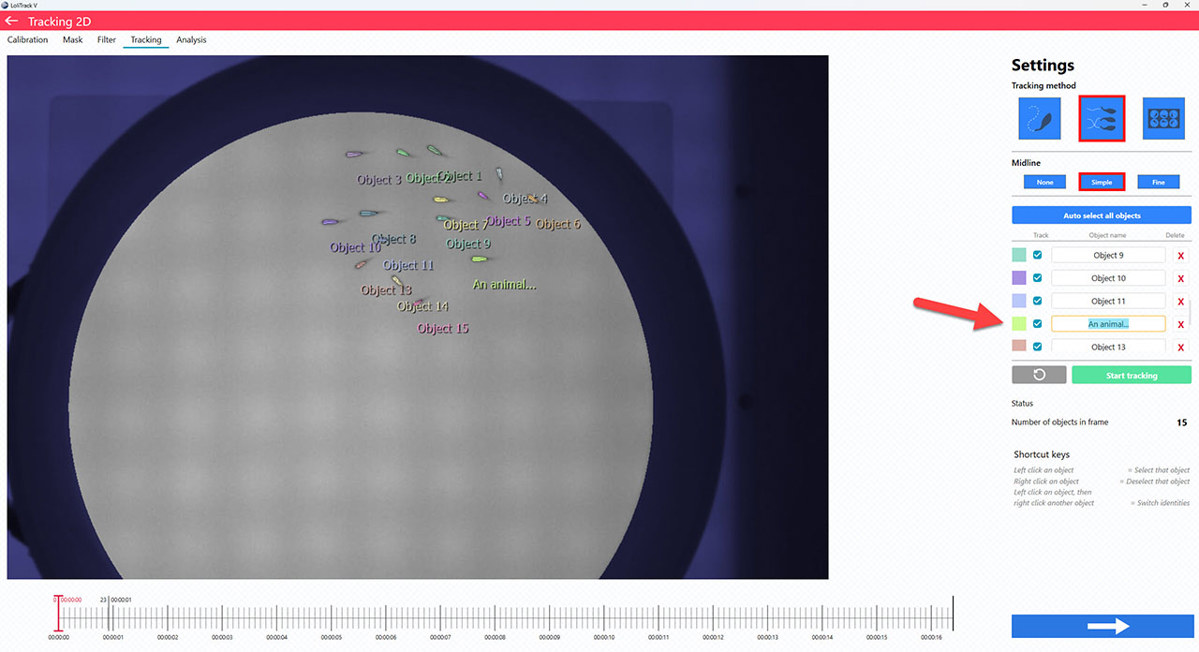 Other features
LoliTrack 5 now supports more camera models for video recording.
You can now save arena and treatment setups.
"Convex hull" area estimation is now a data parameter that can be exported for object in 2D tracking.
You can now change the thickness of rendered trajectories in 3D.
You can now choose from three different spine tracking options in the Tracking tab in Tracking 2D.
Added distortion correction for when videos are distorted, e.g., for wide-angle videos.
Improvements
Overall speed improvement of tracking and analysis
Improved performance of the video recorder
Improved filter options and speed with integration of filter tools from ShuttleSoft 3.
Bug fixes
Fixed bug which prevented image export in 2D.
Fixed a bug where exporting videos may take up a lot of memory and crash.
Fixed a bug where video could not be exported as .avi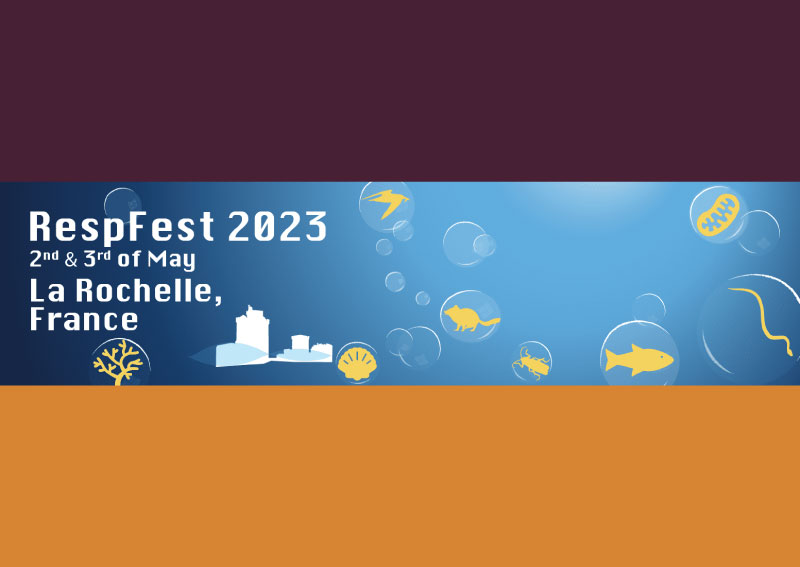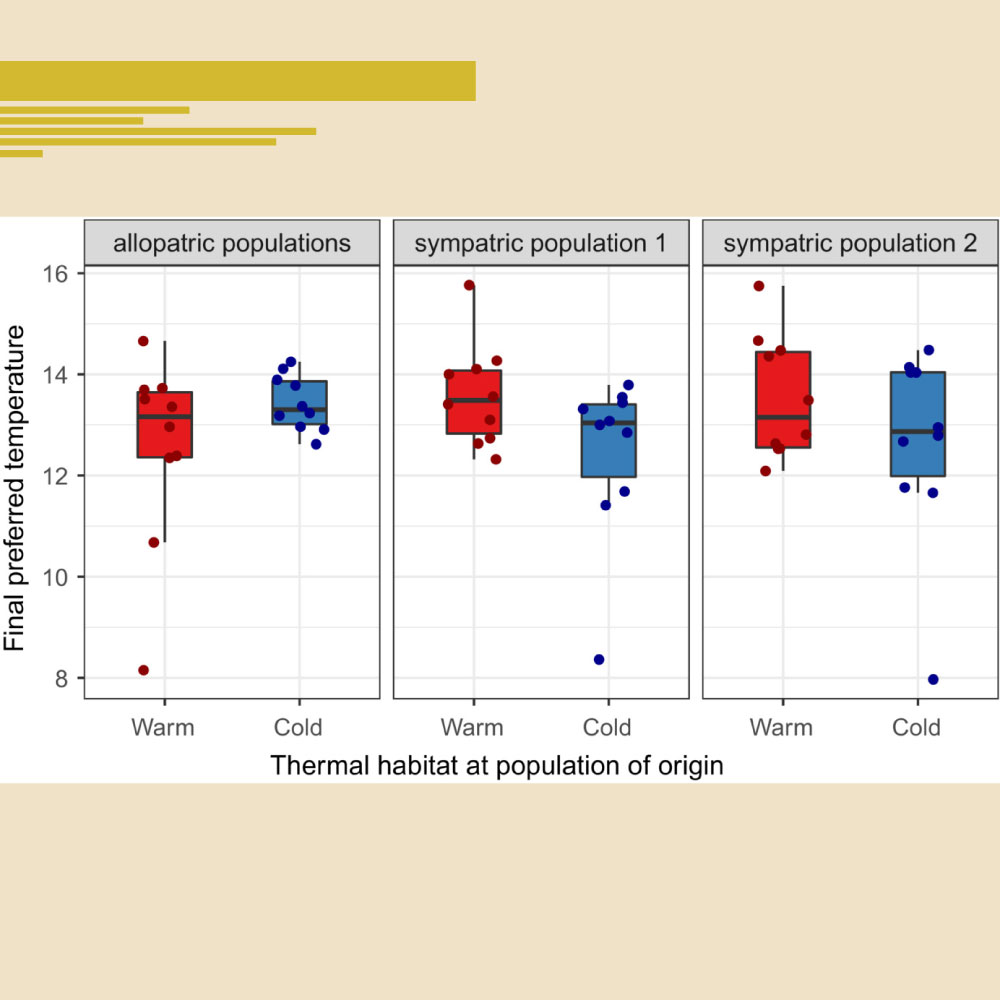 Shuttle box for sticklebacks
Natalie Pilakouta, Shaun Killen, Kevin Parsons, and their collaborators used our shuttle box system with the ID 400 mm shuttle tank to study whether exposure to different thermal environments has led to changes in preferred temperatures in the wild in populations of freshwater three-spined sticklebacks (Gasterosteus aculeatus).
Their findings suggest that stickleback from warm and cold natural habitats both prefer the same temperature of 13 oC.
Boxplot graph on picture is copied from the paper.
Full article:
Geothermal stickleback populations prefer cool water despite multigenerational exposure to a warm environment
Natalie Pilakouta, Shaun S. Killen, Bjarni K. Kristjánsson, Skúli Skúlason, Jan Lindström, Neil B. Metcalfe, Kevin J. Parsons (2023)
Ecology and Evolution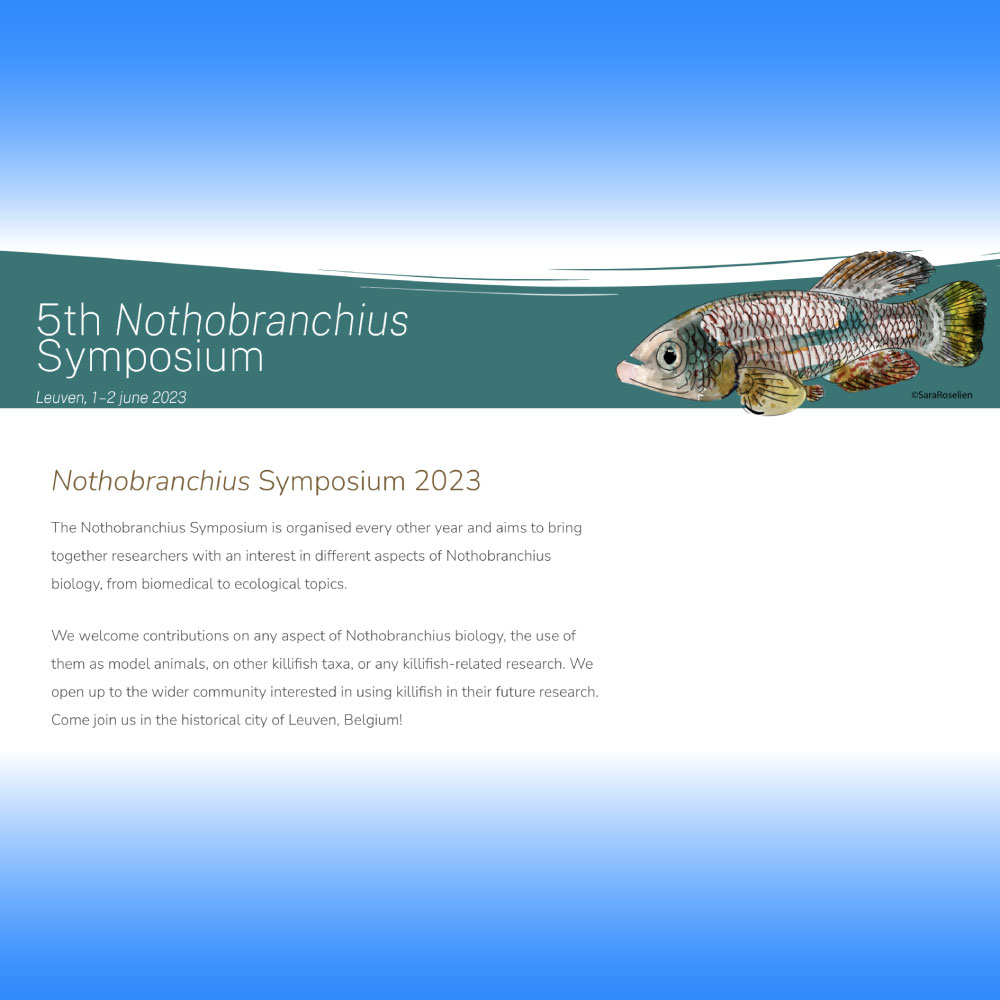 Sponsoring the Nothobranchius Symposium 2023
The 5th Nothobranchius Symposium 2023 is a biennial meeting that serves as a platform for researchers with an interest in all aspects of Nothobranchius biology from biomedical to ecological research to meet and discuss ideas.
We are sponsoring the symposium which takes place in Leuven, 1-2 June, 2023, in order to support this interesting scientific community.
Twitter hashtag: #Notho2023
For more info about the meeting, please visit: https://notho-2023.be/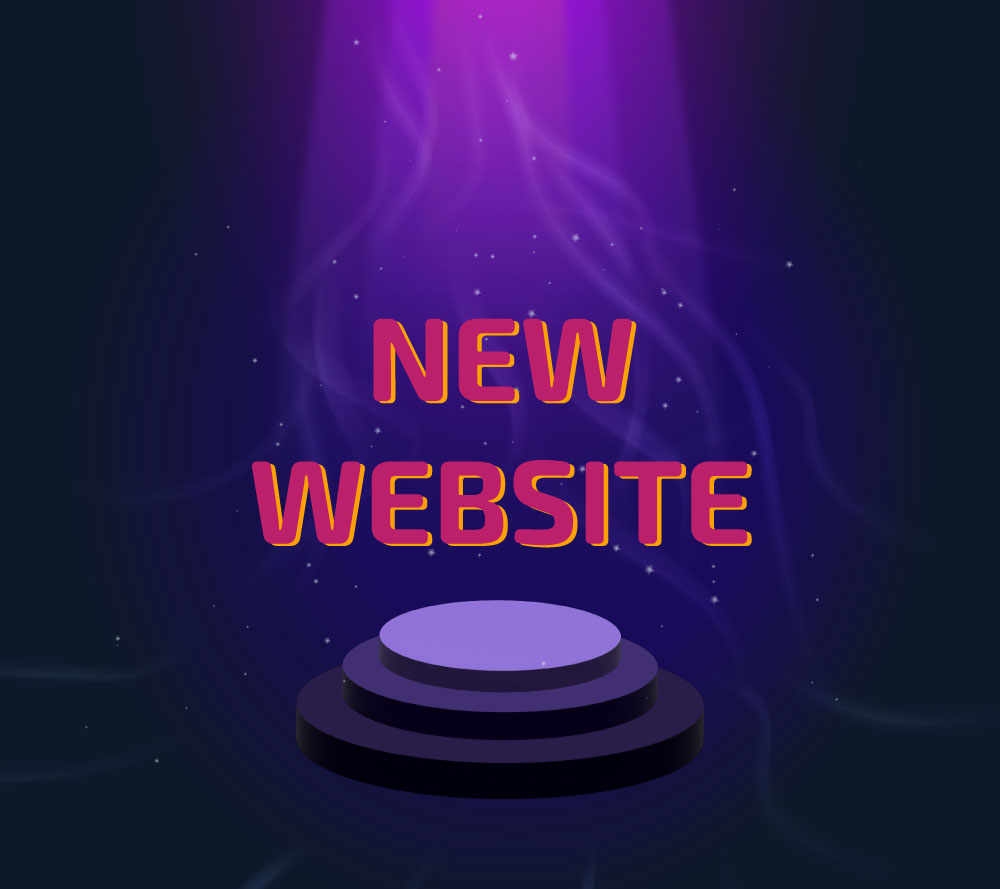 Our new website is online!
If you are a regular visitor on our website, you may have noticed some changes. In other words, we are excited to announce that our new website is now online!
Our website has got a complete makeover compared to the previous, and now 5 years old, website, and we have introduced some needed functionality. You now have easier access from the homepage to our large resource library with quick guides, video tutorials, FAQs and more as well as a quick overview of the latest published papers. On the product pages, you will also find that features, specifications, resources are now easier to find. Simply click the side-menu to switch between the content pages for each product:


Important information like Product #, Customs tariff #, and Shipping weight is now more visible:
A new search functionality has been added, so that you can search all the content on our website directly from the search bar in the top menu. It is now easier than ever to find that specific quick guide, published paper, or software download page.
We will also gradually introduce 3D viewing capabilities for product showcasing and as resources for system setup.
We hope you enjoy our new website as much as we do!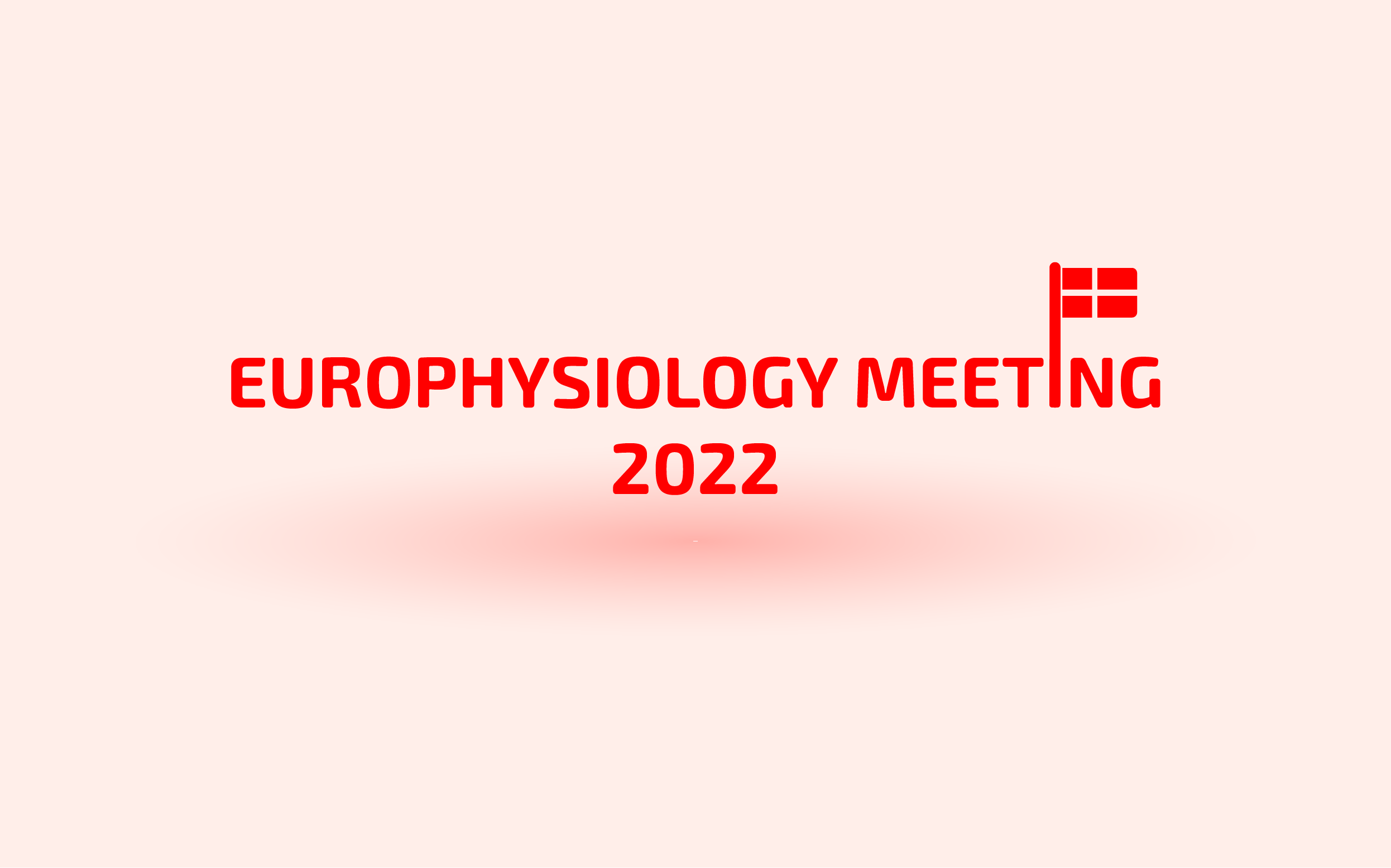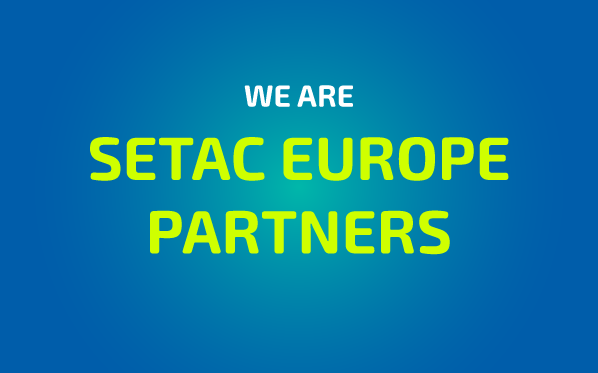 SETAC Europe partners
You can now find Loligo® Systems under the SETAC Europe Partners list! As of 2022, we are now officially participating in the SETAC Europe Exhibition Partner Programme, and we are happy to be supporting this great society even more.
Click here for more information.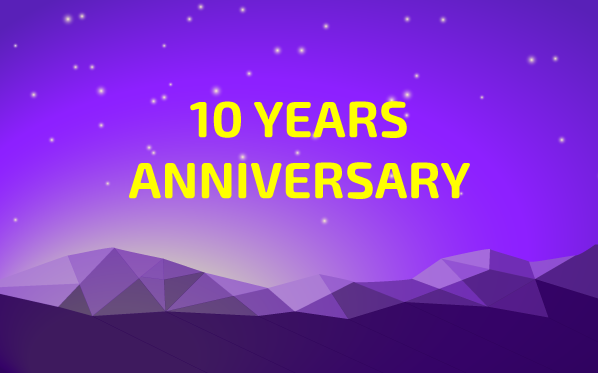 New Shuttle Box Software and Hardware
Check out our new shuttle box systems
We offer complete and fully automated shuttle box systems for preference/avoidance experiments in aquatic invertebrates and fish. The systems include all the necessary hardware and software for experiments with temperature, oxygen, salinity, pH/CO2, and combinations hereof.
Simply choose a core shuttle box system, and then add up to two add-on shuttle box systems to run a full featured 3-tank setup. In other words, you can now run three shuttle tanks at the same time, and you can even track multiple objects per tank thanks to our new ShuttleSoft 3 software.
For the first time since 2009, a new and major upgraded version of our ShuttleSoft software is available! ShuttleSoft 3 is compatible with almost all video files and cameras, and with our new industrial grade LAN/Bluetooth power strip (PowerX4) for pump/valve control, and WTW data logger interface – our shuttle box systems for animal preference/avoidance behavior have never been smarter.
The new PowerX4.
Current users of ShuttleSoft, as well as newcomers to shuttle box experiments, will appreciate the many new time-saving features and user-friendly software, as well as a detailed data analysis and statistics section, and improved performance in an intelligible, clean-looking software.
Live overview of shuttle tank water parameter regulation.
One of the main benefits is the video performance enhancement and multiple tank operation. ShuttleSoft 3 can handle simultaneous recording, logging, and regulation in up to three shuttle tanks at a time – all from a single PC. You also have the option of tracking multiple animals per tank, which means that you can run shuttle box experiments with much higher throughput than before.
You can also record videos of your static and dynamic shuttle box experiments directly in ShuttleSoft 3 – a good tool for documentation. Static experiments videos can then be tracked and analyzed whenever you want with the new offline video file tracking functionality. And ShuttleSoft now supports a long list of camera models and video file formats.
Another new feature in ShuttleSoft 3, is the built-in data analysis section. This functionality allows the user to see statistics and visual representations of your data. And if you are running live experiments, all data are shown live as well!
Live data representation from a running shuttle box experiment.
ShuttleSoft 3 connects seamlessly with required hardware for video capture and water quality control via LAN, Bluetooth, and USB. No more analog signals (read: no more noise)! Use the handheld 3310 meters from German WTW for sensing temperature, oxygen, salinity, and pH/CO2, or our Witrox instrument for oxygen and temperature experiments.

Tell me more!
I want to try a demo!
You can download and try a free demo version of ShuttleSoft 3 with limited functionality.
Wait, I have a question!
Feel free to contact us any time with questions or concerns. If you prefer to discuss via a video meeting, we will be happy to arrange a session.